Handcrafted Chocolates from Islay
Great Taste Award
Islay Rocks
Hot Chocolate
Islay Cocoa
Our chocolate is made, where possible, with local ingredients, and with as much local spirit and character as we can fit into each bar.

All About The Taste
At Islay Cocoa, the majority of our chocolate couverture is made at origin with the finest quality Fino de Aroma Cacao. This family-owned Colombian company knows their product well, and not only ensures our product is in turn higher-quality, but it keeps more wealth inside their country in turn.

Scotland has a fantastic natural larder, and, much like many other passionate artisan food producers, we're so happy to showcase local products in our range; be it salt from Islay's hand harvested Orsay Sea Salt, sourdough from Jura's Island Bakehouse, or freeze-dried Perthshire raspberries.
IslayCocoa are members of Food From Argyll, a network of passionate local food and drink producers.
Subscribe to our newsletter
Promotions, new products and sales. Directly to your inbox.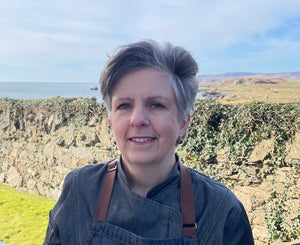 Chocolates from the Heart by Emma
I have always had a love of baking and a passion for local artisan food, creating recipes to share and enjoy with family and friends. Following a career in hospitality it was time for a change. After training with Ruth Hinks at Cocoa Black I had the confidence to start IslayCocoa, from my home at Laphroaig on the Isle of Islay.
I love developing chocolates to showcase some of the fantastic local produce we have on the island and throughout Scotland.
Islay is a truly inspiring place to live and work with some excellent local food and drink producers. I feel very lucky to call it home.

Say it with chocolates, the perfect gift or wee treat for yourself. I hope you enjoy!

Emma x.